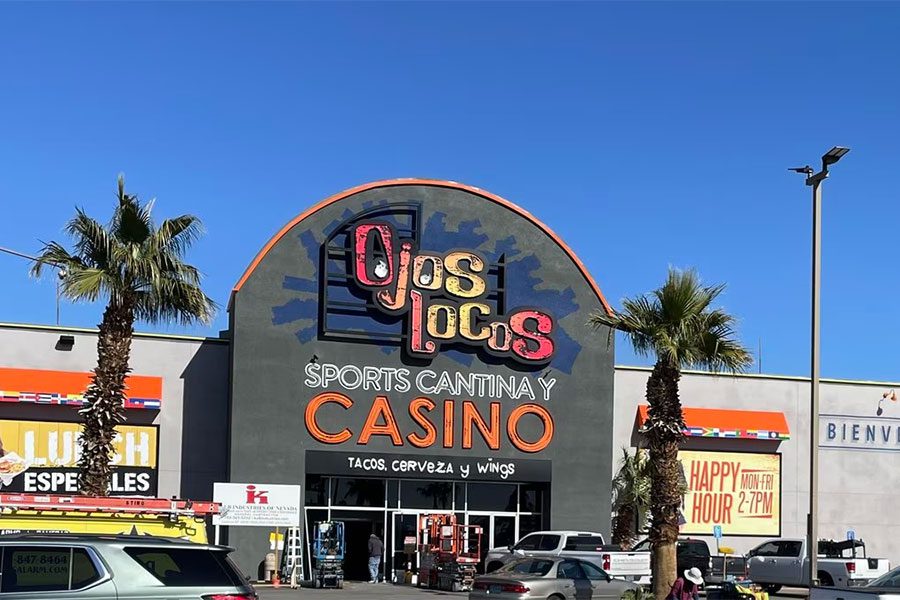 Ojos Locos Sports Cantina y Casino at Hotel Jefe in North Las Vegas has announced it will be unveiling its reimagined resort to the public on Monday, February 6.
The Dallas-based company has collaborated with Fifth Street Gaming to present the first-ever gaming and entertainment venue that represents the rich culture of Latinos. The Ojos Locos Sports Cantina y Casino will be replacing the defunct Lucky Club Hotel & Casino at 3227 Civic Center Drive in North Las Vegas. 
According to a statement released by the company, the dining, entertainment and nightlife centrepiece features a 10,000 square-foot casino and a restaurant large enough to seat 300 guests. In addition, the casino will have 200 slot machines, the JefeBet Rewards program, a sportsbook, a video poker bar able to seat 35, and 90 television screens for guests anywhere on the property to follow the content being displayed.
READ: Top US real money online casinos in 2023 
Close by the casino is the Hotel Jefe which is currently undergoing extensive renovations. The Fifth Street Gaming property has 90 rooms and suites that are 40% renovated, with the rest to be completed by the end of 2023. Interesting additions to the rooms will include "brightly colored accent walls and artwork, luxurious bedding and sleek, contemporary bathrooms featuring decorative tile work in white-and-gold or gray-and-white palettes".
Seth Schorr, chief executive officer of Fifth Street Gaming, said: "After two years of planning and collaboration, we are overjoyed to introduce this new gaming and entertainment destination catering to the Latino community.
"We are grateful to Ojos Locos for joining us in this endeavor and to our valued customers whose enthusiasm inspired us to create a development just for them."
Laura Caudillo, vice president of growth, Ojos Locos Sports Cantina, said: "We are excited and honoured to collaborate with Fifth Street Gaming on this flagship location, allowing us to bring the first-ever Ojos gaming experience to market. We look forward to welcoming the Latino community with our excellent service, delicious food and fun-filled atmosphere."