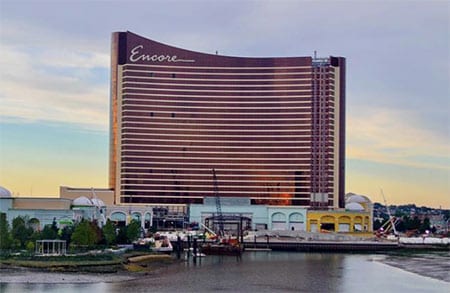 As if Wynn Resorts has not suffered enough controversy in recent times, the company's Encore Boston Harbor property is now embroiled in multiple legal battles.
Last month, Coghlin Electrical Contractors accused the casino giant of failing to meet payments owed for work done during construction of the $2.6 billion resort.
Coghlin is waiting on a $27 million payout, but Wynn claims any outstanding debts are the responsibility of Suffolk Construction – the project's chief contractor.
SEE ALSO: BEST USA CASINO SITES
Suffolk insists there is no paperwork to back up Coghlin's claim.
"In fact, Coghlin recently and unexpectedly added millions of dollars to its list of claims without providing any meaningful documentation to substantiate those claims," said Linda Dorcena Forry, Suffolk VP of Diversity, Inclusion and Community.
Coghlin says that while it has paid all the electricians who worked on Boston Harbor, the company cannot fulfil their benefits until Suffolk and Wynn hold up their end.
With that issue still unresolved, Encore is also dealing with accusations of cheating customers out of their winnings.
Richard Schuster recently launched a class-action suit against the casino for paying 6:5 odds on blackjack wins and rounding down payouts on slot machines.
The Massachusetts Gaming Commission (MGC) has looked into the matter and cleared Encore of any wrongdoing.
While most blackjack games pay 3:2 odds for a natural 21, the 6:5 variant is common on lower-stakes table around the world.
The MGC said Mr Schuster's claims about underpaid slots winnings were the result of confusion over the workings of Encore's ticketed payout machines.
When players collect their winnings from slot games, they are issued tickets that can be scanned at automated cashout terminals around the casino.
Payouts are issued in bank notes, rounded down to the nearest dollar, with leftover change returned on a separate ticket that can be used as a betting voucher or cashed out in person.
According to his lawyers, Mr Schuster will continue to pursue the matter.
LATEST CASINO NEWS